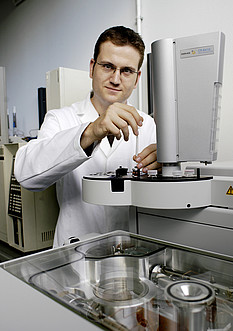 Knowledge
SIFC graduates are equipped with highly specialized theoretical and practical knowledge to analyze and evaluate various problems of a technical but also social level in relation to food safety. They are ready to communicate this knowledge nationally as well as internationally and to tie in with latest findings in the field of food safety.
They are well grounded in how food is produced, how the field of food safety is organized on an international and interdisciplinary level and how this knowledge is implemented and can be assured.
Furthermore, graduates have the ability to use their knowledge gained in order to develop, realize and implement their independent ideas and they have developed a critical awareness to adequately response to problems.
Skills
Graduates have the ability to develop a solid, research-based diagnosis of problems by means of integration of knowledge gained in various interdisciplinary fields such as natural sciences and social sciences - for example evaluating various aspects of management and consumer expectations and –behavior - in order to gain insights and develop new concepts and methods.
Furthermore, they are in a position to develop, apply and communicate new skills across the disciplines as a reaction to newly arising insights and techniques in relation to food safety.
They have the ability to evaluate and analyze the risk of the production of already existing as well as new products or production lines including their distribution.
As the Master study program SIFC is an international study program, which is conducted in English, graduates are also enabled to communicate on an international level.
Professional competence
SIFC graduates are trained to work self dependently in the assigned areas of food safety. They are equipped with leadership abilities and the capacity for innovation in complex, unfamiliar and for them unpredictable situations. They have the ability to lead international, interdisciplinary teams strategically and to assess their achievements.
Graduates of the Master study program Safety in the Food Chain are enabled to collaborate in a multidisciplinary team consisting of, for example, experts from the fields of food technology, nutrition, product development, sales, law and IT in order to interpret research results in a holistic approach.
Graduates find themselves in the position to communicate state-of-the-arts results, methods and underlying principles in the fields of food safety to a professional audience as well as non-specialists. Graduates have the competence to research social norms and relationships in detail and actively influence these. They learned to devise systems for the warranty of food safety and they can make a contribution to the general knowledge on safe foods and their production.
SIFC graduates can solve problems by integrating complex, and probably incomplete sources of knowledge for innovative and unfamiliar contexts. They can respond to questions on a social, scientific and ethical level of food safety and are ready to develop new approaches for complex, rapidly changing work- and learning contexts in order to make a contribution to the expert knowledge as well as relevant professional experience.